Web application development Agency in Dubai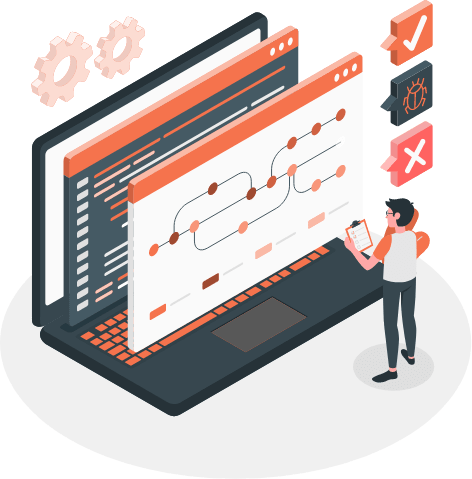 Web applications in short are like regular computer programs, but they function on the internet, for example, the fact that "WhatsApp" has a web application is what makes us able to run it directly from the desktop.
We at 2P, can help you build the web application you dream of, so that it is appropriate to your product or idea, scalable and safe, and what we do is dedicate the necessary time to understand your goals, the benefits, and characteristics that you want, in addition to researching the needs and behavior of your customers, then we think of the future additions that you may need, and finally, we design a prototype and test it, and ultimately that what makes us save time and quickly get to build, design and develop an excellent final version, and hand you an exceptional application that meets your ambitions and excites your customers.
What is a web application?
A web application is an application developed to run on regular browsers such as Google Chrome and Firefox, so it is accessed via the Internet, and there are different types of web applications, as we can develop an application that allows your customers to search for information quickly and easily on your content-rich site or an application that allows you to collect, save and analyze data provided by your site visitors, and create reports, in addition to other functions that web applications perform, making it easier for the user to interact better.
What is the difference between a web application and a website?
The difference between them is very simple, and average users may not find a notable difference, as they see both of them as a web address "URL" that they enter, but technically web applications require more interaction from users when compared to regular websites, meaning that users can control the web application, while the role of the website is only providing information.
For example, if you see web pages for a restaurant, where information about the restaurant and its dining experience is provided, and the address and the way to go to it is explained, then you have a website for the restaurant that plays its main role which is introducing and providing information, while if you find on the website a page that makes you able to give your special order and add your address so it can be sent to you, here you have a "web application".
Your web application may be part of a customer management portal, a reservation system for hotels and tours, portals for institutions, non-profit organizations and government applications, part of school management and student registration systems, retail sales services, or other uses, in other words, the possibilities are open and endless.
Boost your success and maximize your profits!
To have a web application means that you are in the process of facilitating and speeding up your work and enhancing the efficiency of your organization, for example, you can build a web application to develop your administrative business system by automating this system and making it electronic to obtain better results, as you will be able to access information about your business at any time and from anywhere in the world, which in turn saves you time and money and improves interactions with thousands of customers and partners.
Additionally, employees in your company or organization can start and follow up their work wherever they are, especially sales staff who will be able to be on this application 24 hours a day and 7 days a week.
Create with us now an application that facilitates your business and relies on your own solutions that suit your brand, let our team at 2P take this burden from you and recruit the latest technologies to turn your dream into reality.
Establish or transfer your project to the web
Creating and managing a business on the ground costs you much more than launching your project on the web, now you can start with a web application that will be your project and represents you in carrying out the tasks, an application that you can expand and invest in the future.
Get now a unique private web application that meets your requirements and offers you everything you need
Own the solution that gets your business done, achieves your goals, and doubles your profits, quickly and safely
Contact Us