Certified Google Partner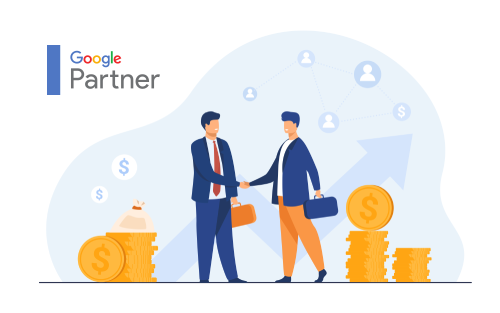 We at 2P are proud to be a certified Google partner as our portfolio of successful projects helped us be one of the most important certified Google partners in the region, and as we are a trusted digital agency in the market and a certified Google Partner, we take responsibility and confidence to provide competitive advantages to our distinguished customers and to ensure the provision of high-quality digital services to clients in the Gulf countries, the Arab world, Turkey and other Middle East countries.
When you work with us, you are working with digital marketers
who have proven experience and ability to help businesses succeed online
Why is 2P a Certified Google Partner?
Through its various platforms, Google offers a distinct set of options and tools to develop digital marketing strategies. Once a company is a Google Partner, it obtains direct and special support from Google to develop the performance of advertising campaigns for its customers. This helps to achieve fast and precisely targeted results to achieve the best results for the company's customers.
As we excelled for years in helping our customers achieve the best return on investment for their ads, we at 2P provide advertising and marketing services , through our distinguished team of Google accredited digital experts on various Google platforms, using the best-recommended practices and the latest tools and technologies directly approved by Google.
This is what makes us a well-deserved certified Google Partner in the Arab region and the Middle East.
7 advantages of working with 2P (Certified Google Partner)
Certified Advertising Account Managers:

Google Certified Analysts and Account Managers help drive ad campaign performance effectively.
Our team at 2P includes certified ad account managers who can assist our customers with all their digital campaigns to meet their business needs and lead them to success and distinguish them from competitors.

Accessing Google's BETA features:

At 2P we can access Google's beta features! As soon as Google introduces any new product or feature, it allows us (as a certified partner) to test the operation and use of these features to test their effectiveness, and once we are sure of the results, we allow our customers to benefit from these features directly.
This means we can identify opportunities for your business and help you stay ahead of the curve.

No wait, no loss:

Based on the exceptional spending on Google campaigns, 2P has direct and special support from Google to help our prestigious customers carry out their ad campaigns without any delay by quickly reviewing the campaigns.

YouTube Ads:

As a certified Google Partner, we know how to take advantage of YouTube advertising features, such as TrueView video formats, targeting custom audiences, call-to-action for video campaigns, video remarketing, and other advantages advertising on YouTube.

Renovation and innovation tests:

Google Ads partners are required to conduct A / B tests on ads with high efficiency to attract large amounts of customers to the customer's landing pages, so the return on investment in advertising campaigns will be stronger and better.

Professional use of Google Ads features:

We know all the little secrets on Google Ads including not using negative keywords and the importance of ad extensions, exactly matched keywords, site linking in ads, A / B tests, ad scheduling, and much more.

Profitability and customer service quality:

Google tracks our customers' accounts to ensure they get the best services.
Accounts quality score is evaluated by increasing the return on investment in campaigns for our clients by optimizing ads, keywords, and landing pages. High-quality scores indicate a lower CPC and a higher ROI for the customer.
Google also checks conversion and customer retention rates to make sure our customers are happy with our services.
Working with 2P Certified Google Partner will not only save you time and effort, but it will also save you money, as we design digital campaigns that fit your budget, needs, and goals to bring you profit, growth, and progress in your business.
Now hire a team trusted by the world's largest search engine to deliver the results you deserve
Let's discuss your advertising plans on Google ad platforms