Best Email Marketing Agencies in Dubai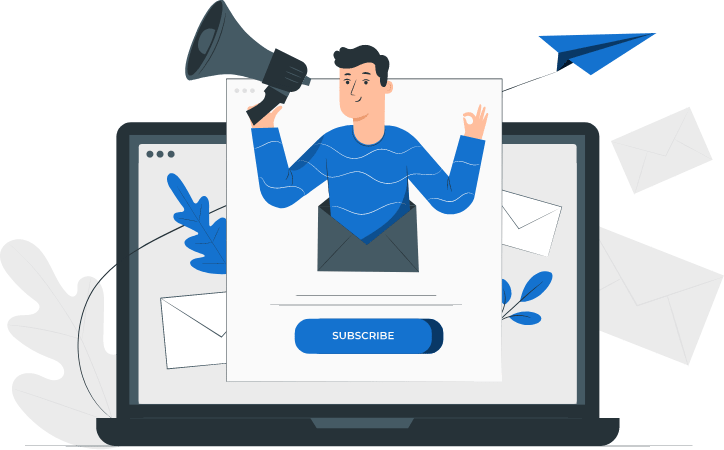 Reaching people via e-mail is like opening your doors for everyone to come in and hang out with you, what matters when they enter is them being interested, and you being heard, because Gmail, Outlook, Yahoo, and other platforms are open houses eagerly waiting for your messages which they use to build new relationships with your potential clients, and strong ties with your existing clients.
At 2P, we build emails with the right designs and letters, then send them to a carefully selected database so that every client feels that the message is made specifically for them, this is what makes the mailing campaigns that we launch achieve the highest return on investment at the lowest cost, and for every message sent, we track the results and measure clients response and interaction.
Benefits of Email Marketing Campaigns
Email marketing campaigns are characterized by advantages not offered by most other advertising channels, which makes email a very powerful tool, particularly because it allows you to include many details in your ad, or combine a different set of services and products in one advertising message, therefore, you have an unlimited space to put forward all the details, whether with text content or photos, in addition to the ability to direct recipients to specific web pages, where they can view more details and information.
Email marketing Effectiveness
Email marketing campaigns give you an effective and successful way to communicate, precisely target specific markets, and do cost-effective marketing, and it is worth noting that 91% of people read their emails daily, more importantly, 66% of sales on the Internet were through email marketing.
Why 2p for Email marketing?
The optimized modern templates we use to build marketing emails, make it easy to create, customize and send professional messages, no matter what your sector is, because we design messages that attract your clients and stimulate their response.
Email Marketing Strategy Steps
In the beginning, we have initial discovery stage in which we work to understand your company's goals and analyze your target audience, then we develop a comprehensive strategy that matches your goals and ensures the engagement of your clients.
We create a list of target mailing addresses, depending on your database, our methods and our sources, and we focus here on the quality of these mailing addresses rather than the quantity in order to reach a carefully selected final list.
Our team will design an impactful and deliberate email campaign that aligns with the latest email marketing trends, and that is able to win leads and retain existing ones.
Our team will conduct a final assessment of what we have achieved, and we will make sure that our campaign is optimized to be displayed efficiently on all devices, particularly mobile phones, and finally we will launch it after we have done everything.
We will follow up on the campaign and its results and measure its impact, and by collecting data and statistics, we will develop and improve to get stronger and better results.
We design and develop email campaigns for all businesses, whether it is B2B or B2C, and if you are looking forward to interacting with your clients, selling more products or generating inquiries and attention, we have a successful track record in all this, so in order to achieve the highest return on investment with your marketing expenses, all you need to do now is contact us directly, and make sure that emails can play a pivotal role in defining the meaning of your brand to your clients.
Reach and be seen by the right people, at the right time, Email messages are easy, fast, secured, and affordable
Reach and be seen by the right people, at the right time
Email messages are easy, fast, secured, and affordable
Contact Us