Best Mobile Marketing Strategy in UAE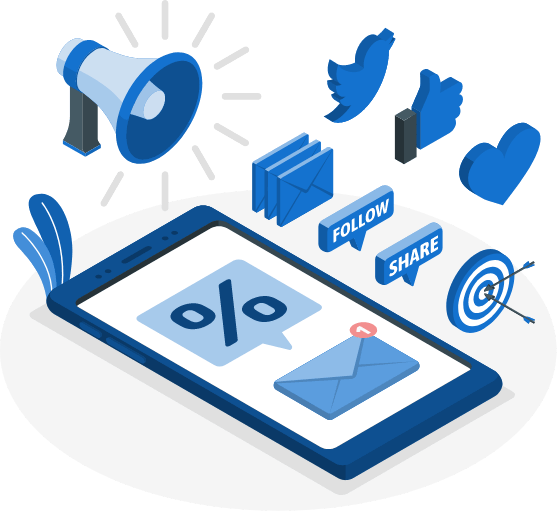 There are about 5.2 billion mobile phone users around the world nowadays, meaning that you have the opportunity to reach all of these anytime and anywhere, this is what made the world spend nearly 190 billion dollars on mobile phone ads in one year.
We at 2P choose the appropriate strategy and the best methods to reach mobile phone users including app ads, SMS text messages, optimization of your website for mobile devices, Google mobile ads, etc., in an all-mobile-friendly and pleasant way that suits the nature of using phones as personal devices.
What is Mobile marketing in digital marketing?
It is one of the main digital marketing trends and it aims to promote the products or services provided by your brand through mobile devices using specific technologies and elements such as: sending SMS text messages, optimization of websites for mobile devices, app ads, and other elements.
Why Mobile marketing is important ?
There is a massive and ever-increasing use of mobile phones in the Arab world and the Middle East, therefore, every company and institution has the opportunity to reach every client anytime and anywhere through a variety of mobile marketing options, and this opportunity is directly reflected in sales and revenue.
Mobile Marketing Campaign techniques
At 2P, we work on managing mobile marketing campaigns by starting with identifying the target audience, then come up with the idea of the advertisement and design it, and then publish it at the right time, after that, we continue our work by following the performance of the advertisement, and the cases of users converting into potential or actual clients, thus we ensure getting the best results represented by increasing the number of visits on your website or app, which ultimately leads to achieving the desired returns for you.
Benefits of mobile marketing
Fast and direct access

You will be able to spread more widely, interact with any of the categories within your clients directly and reach them quickly, at the time and place that suits them due to the fact that the mobile is a personal device carried on all the time.

Attracting interaction and attention

Personal and direct communications are effectively interactive and it will motivate your clients to respond directly to advertisements and messages received on their mobile phones.

Customization

We can help you customize your message for the target audience, according to their precisely defined demographics.

Higher response rate

Unlike the other marketing channels, mobile marketing also allows us to measure the impact and follow what we have achieved.
Contact us to help you follow and maintain your clients by sending offers and discounts to their mobile phones constantly
Contact Us
Most Successful Mobile Marketing Campaigns in Duabi
Providing information
We make sure that your advertising message is providing the client with useful information .
Entertainment and fun
Your clients use their phones for entertainment, therefore, we will provide them with your message and offers in a way that suits games and applications.
Credibility
We care that SMS advertising text messages on mobile phones, are reliable and have credibility in their form and style.
We don't like to disturb
We will not repeat your message aimlessly so that your clients do not consider it a nuisance, and we will choose the time, and the number of impressions that are suitable for them.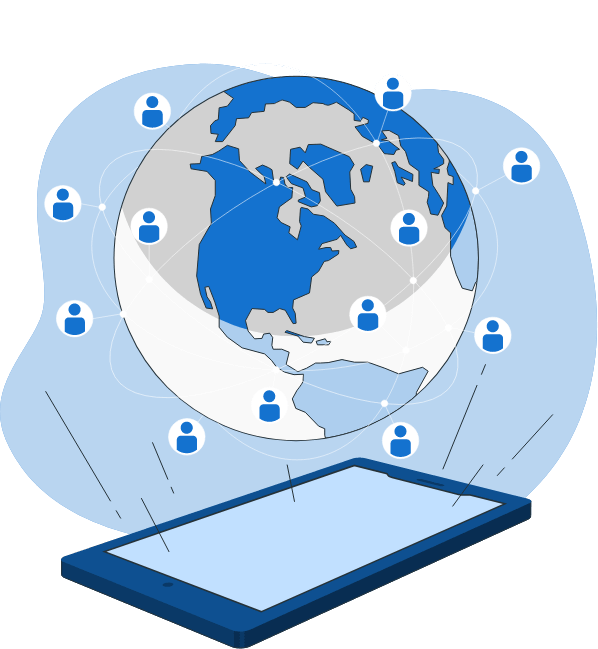 Location-Based Advertising in mobile
If your clients are looking for solutions to their problems using their phones, we will show them your ads and promotions as help and quick solutions for them based on their geographical location, therefore, we will make your company or organization geotagged for search engines and mobile phones to help your potential clients and search engines find you directly.
Today, no matter how you want to reach your clients, we are with you, whether you want to reach them through designing mobile app ads, or designing and building a mobile app for your project, or through making your website responsive, fast, and optimized for mobile phones, or by optimizing your website for search engines on mobile phones, or designing Google mobile ads, or SMS and emails, etc.
It is worth noting that according to recent studies, 52% of online purchases were made through mobile, and 98% of all SMS messages sent were opened, this means that you must have a mobile marketing strategy now and immediately.
Contact us to help you develop and implement the right mobile marketing strategy
We can give you a voice and a place saved always on your clients' phone screens
Contact Us