Search Engine Advertising (SEA)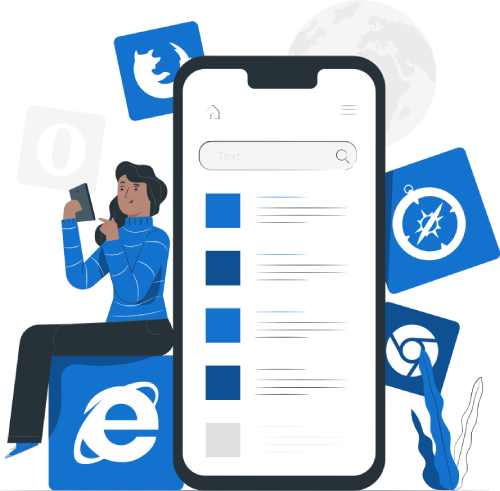 what is search engine Advertising?
Search engine ads are regarded as the most effective and easiest to target among the other types of digital ads, why? When customers use search engines to look for a service, product, or solution that helps them, your ad will appear for them directly alongside the search results on Google, Bing, Yahoo, and other search engines, and this makes reaching your target groups very easy and fast.
At 2P, as a certified Google Partner, we help you reach potential clients at the lowest cost and in the fastest time, contact us now.
Search Engine Marketing Benefits
It is a method of paid advertising where your ads are displayed directly within the search results on search engines (such as Google, Bing, YouTube, etc..) by charging you a fee for each click on your ad which is known as Pay Per Click or PPC , in which the keywords that your target audience searches for when creating the ad are used to reach the people who are really interested.
Elements of Highly Effective Search Marketing
Target keywords

We choose these words based on your goals and the detailed results that Google provides us regarding search volume, cost of each word, and others.

Ad title

we choose an appealing title for you, as it is the first thing that will appear to the person who is searching, and we make sure that it contains the main keyword.

Display URL

It is the link that appears in the ad and the address that you want to direct users to.

Description lines

It is used to highlight the most important features or characteristics of your product, service, or idea so that it motivates users to choose your ad and click on it, that's why we pay great attention to word choice in this description; to be appropriate and actual words that reflect the content of your ad so that we avoid any cost-per-click of an untargeted user.
How search engine marketing works?
This type of advertisement works using an auction-based system in which advertisers bid on specific keywords related to the products or services they want to advertise.
The most important thing in this process is to define the keywords precisely so that they target the right audience at the lowest cost. Choosing the right keywords makes the ad rank higher and cost lower.
Ad quality is essential!
The high quality of an ad means that the ad can meet the needs and goals of the target people who are searching. The ad starts when it appears on the search engine, but it must end with converting potential customers into actual customers.
Advantages and disadvantages of search Engine Marketing
Fast and easy as it can be set up within a few hours, with the ability to make adjustments or changes to it.
Very accurate targeting, as it is non-intrusive ads that strongly help you increase conversion rates and return on investment.
Fast results, unlike free SEO processes, which require time and patience to reach results, search engine paid ads to reach greater results in the shortest time.
Increase brand awareness as appearing within the first search results gives you value and reliability among the audience.
Accurate reports, you can get accurate reports of advertising campaigns, follow up on campaign performance and measure its results easily.
We at 2P are a certified Google Partner, which means that we are supported by a team of Google experts to reach the best results, and with all our projects, we follow an approach that focuses on the brand and its ability to properly and smoothly reach the target groups, and that's how we bring the largest returns from the advertising campaign.
Rely on us now to design and launch your ad campaigns on search engines
To know more about our PPC packages, click here
Contact Us