Social Media Advertising (SMA)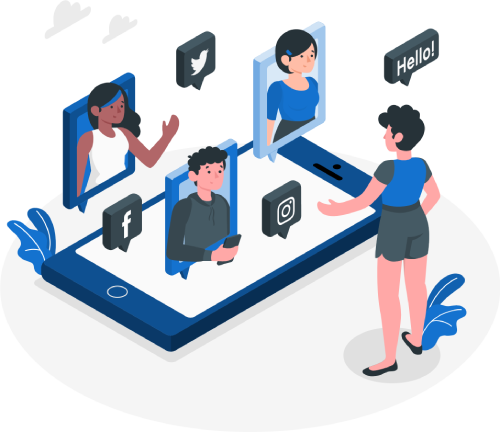 It is no secret that the popularity of social media continues to increase, as there are now more than 4.2 billion active users of social media, while every one of us spends a lot of time on social media (a daily internet user spends an average of about two hours and 25 minutes using social networks), these indicators clearly tell you that advertising via social media is not a luxury but an urgent necessity.
Are you looking for an effective way to reach your audience?
Social media is a spacious and open space for interaction and participation, and this makes it a powerful platform for increasing brand awareness, it is also a strong source for new customers and new visits to the website, so it is imperative to improve the use of ads (Facebook ads – YouTube ads – LinkedIn ads – Twitter ads – TikTok ads – Instagram ads – Snapchat ads -…), to actually reach your target groups and build a strong presence for your product or service.
In 2P, we can help you launch advertising campaigns on social media that grow your followers' network and increase your reputation and referrals, and it will also be a gateway to building a strong relationship by interacting with your audience, then they will definitely buy from you because they feel that you are close to them and connected to them.
What will you benefit from social media ads?
Today we can launch a full campaign for you through which the buying and selling process takes place on your social media pages, or increase the number of visitors to your website or store and convert potential customers into actual customers, as we focus on developing advertising campaigns that attract large numbers of visits to your site with an increase in conversion rates, and we can also retarget ads so that they appear on social media pages of your new website visitors.
Did you know that 21% of consumers prefer to buy from brands that they can access through social media?. We can now help you use social media platforms as e-commerce platforms or as a major step in your sales and marketing path through our deliberate advertising campaigns.
How do you know that you need to launch a social media ad campaign?
You might say: isn't it enough for me to care about my social media pages only without resorting to paying for advertising campaigns? in fact you still have three options: either to pay attention to social media marketing in the traditional way (managing pages, publishing content, and interacting with the audience without spending on social media ads ), Or using with no attention given to the content of your pages, or you combine the two, and to find out what is most appropriate answer these questions:
Do you have the time to invest in social media in the traditional way without advertising campaigns, or do you need immediate visits to your site or store?
Are you looking for a large and expanded reach for your target audience that goes beyond what social media can provide with its free manner, which limits the reach of posts?
Do you have a list of current clients, e-mail subscribers, or any previous data that you can rely on, and therefore you may not need advertisements on social media, or do you want to obtain such data?
How you answer these questions will help you decide whether you need to invest in social media ads, manage social media pages, or both!

In conclusion, it is important to know that the essence of social media is that it is a place where people communicate with friends, family, and brands as well, and as these means continue to grow at a tremendous rate, it is imperative that you will need to benefit from advertising campaigns on them.
Make sure that every cent or dollar you spend on a social media ad campaign will find the result you want and more
Contact Us