Media Relations Management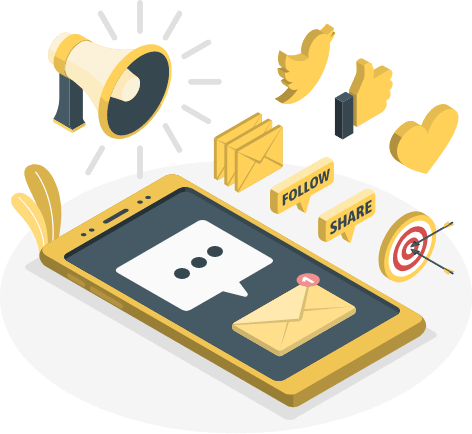 Having a unique story is not enough! No matter how strong your product, reliable your service, or great your idea is, you will remain in the shadows if you do not shine and glisten in the sky of the sector or field in which you work, so highlighting your areas of success and distinguishing you professionally is an essential step to reach your goals, and no matter what marketing and advertising campaigns you do, media communication and media relations will remain of great importance and vital weight on the path of any person, project or institution.
We at 2P can be your gateway to the vast open spaces of the world of journalism, radio, television, and digital media, through a giant network of relationships with press institutions, media networks, and electronic platforms.
Hire media professionals and celebrities to your advantage!
We can formulate your message and publish it through traditional and digital media channels so that your products or ideas receive the necessary publicity and coverage, and even the support needed for your organization or project by the most famous journalists, bloggers, media professionals, influencers, symbols, and elites, this is the proven way to mobilize support and endorsement and achieve an effective and influential media presence, which will win you an unwavering presence, credibility and standing among your audience.
Create a story and then tell it!
Each of us has a story that deserves to be told, and all we will do is dust off the most amazing story of your company or organization, and tell it as a timeless story. At 2P, we search within brands and ideas of business owners and create catchy and real stories, then we make our strong network of relations (newspapers, channels, radio stations, websites, etc.) address these stories through unique angles to make it receive wide resonance in the target audience, and finally, we measure the impact and evaluate the results across a variety of the leading tools of analyzing the impact of media discourse to ensure your goals are met.
Get strong, reliable support with professional media coverage
Touch people with a voice that speaks for them!
The power of the media consists in its role as the biggest field of the masses, where the large crowds gather to read, listen and watch, and this gives you a great opportunity to appear and reach the largest possible group, and here you need strong strategic partnerships and permanent relations with the media to keep your voice heard, and to ensure that your news and your achievements are covered periodically in the appropriate manner.
Address people in a language that suits them, and express them in their accent and style
What do we offer you for professional media relations management?
Preparing and implementing media content for companies and organizations in different languages

Do not bother that your organization or institution does not have a professional media or journalist cadre, as we can provide you with summaries, informational brochures, bulletins and press releases in different languages, explaining the nature of your work and announcing the latest news of your company or organization and clarifying its role in the development of your sector or field.

Building media relations and communications

We work at 2P to build direct and personal relationships between prominent media entities on the one hand and between you as a company, institution, organization or public figure, in order to pave the way for you to open new communication channels that enable you to enhance media coverage of your stories, news and accomplishments.

Providing media coverage in traditional and electronic media locally and regionally

Our media relations team at 2P handles press release distribution and media coverage of specialized articles, promotional articles and interviews in many prominent media outlets locally, regionally and internationally; such as newspapers, magazines, radio stations, TV channels, news websites, and more.

Coordination of media interviews

We can provide you with the full coordination of interviews, media statements and press dialogues that are published on various printed, audible, visual and electronic media, in addition to providing field support during the event or the activity.

Organizing and covering media tours, press conferences and events directed at media professionals

In addition to organizing activities directed at media professionals, such as meetings, media tours and press conferences, we focus at 2P on increasing media presence in the various events that your company or organization holds, such as product launch events, ceremonies, forums or conferences.

An analysis of strengths, weaknesses, opportunities and risks in the field of media

Once we start collaborating with you, our media relations experts conduct an analysis of your strengths, weaknesses, opportunities and risks (SWOT Analysis) from a media point of view, where we collect opinions and perceptions about your brand, its position and its mental image in society.

Providing media monitoring services, archiving and media coverage reports

The media relations team at 2P conducts media monitoring of your previously published news, in order to achieve a better understanding about the direction that this news took, and to determine whether the style of presentation needs to be comprehensively improved. Media monitoring is carried out by monitoring the results achieved after publishing your news and stories through the printed, visual and audible media, additionally, we provide you with various published informational media materials related in one way or another to your business.

Training spokespersons for your organization to deliver speeches at events and communicate during crises

Being responsible for your media relations, we will provide you with practical training in order to qualify the members of the upper management and representatives of your company or your organization, to prepare them to face the media authorities with high confidence, especially during times of crisis.
Our goal is to connect you to a successful media presence Hire us now on the mission of managing your media relations professionally and harmoniously We will make your brand shine powerfully as a bright star in the sky of your audience
Contact Us