Google Display Network ads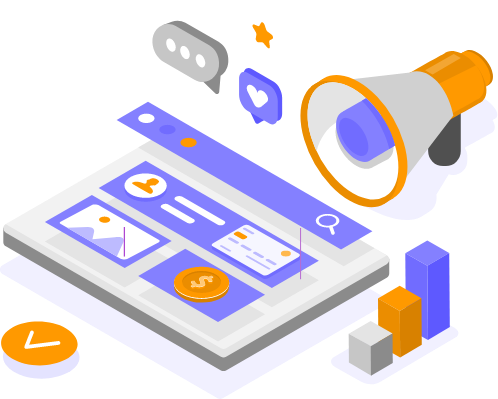 Google allows your ad to appear on its advertising network, which includes more than two million websites, videos, and applications on which your ad can be displayed, and we at 2P as a certified Google Partner can help you launch a very powerful campaign on Google Display Network that can reach 90% of Internet users around the world.
With this large network, you can reach users through targeted image ads that appear for them while they are browsing their favorite websites, watching a video on YouTube, or using mobile phones and applications, or when they open emails on Gmail.
How does Google Display Network work?
The Google Display Network is designed to find the right audience, as its targeting options allow you to strategically display the advertising message to potential customers in the right place and time.
The Google Display Network ads powerfully help find new customers or attract existing ones, as well as generate more conversions with automatic targeting.
What are the targeting methods of Google Display Network ads?
Topics

For example, if the advertisement is for a restaurant, then the topic is (food).

Audience interests

The interests of websites and application visitors, for example, people who love sports or who like fast food or shopping are targeted.

Keywords

for example, by targeting a website that uses certain words, or words used in an article on a specific website, such as the word (sports), then the advertisement will appear on any website that talks about or contains the word (sports).
Based on gender (male or female) or according to age group.

Placements or ad positions

We use them when we need to show our ads on a specific position and not on any other one.
What is the benefit of Google Display Network ads?
The Google Display Network can help you attract someone's attention in an early stage of the buying process, as your ad can be shown to people before they start searching for what you offer, you can also remind people of what they care about, and also remind people who have previously visited your website or app.
We can launch your ad campaign according to your goal, which might be one of these:
Increase your brand awareness and reach.
Get the right audience as visitors to your website.
Encourage people to explore your products and services.
Generate sales and leads.

Whatever your goal is, we can help you, we know how the different marketing channels can enhance each other, and how we can create an advertising campaign that accurately reaches its audience and attracts them professionally to achieve brand awareness and create demand for purchases and sales.
Count on us now to design and launch your ad campaigns on Google Display Network
To know more about our PPC packages
Contact Us